We love drinking smoothies for breakfast every day in our house. Smoothies are perfect if you want a fast and nutritious meal and need a meal "to go." I decided to share some of my favorite tried and true recipes for those of you looking for an easy way to get your fruits and veggies in a sweet tasting frozen beverage. Here are 7 Smoothie Recipes for Quick Healthy Meals!
Before you get started blending some of these tasty smoothie recipes, you need to make sure you have the supplies available to make your prep and process simple. We use a Ninja Blender system to make our smoothies. We've had a Ninja for several years and could not live without it (seriously, I've thought about taking it on a cruise before!). Our Ninja has 3 single-serve "nutra" blender cups so the hubby and I can blend our drinks and be done. If you have more than 2-3 people drinking smoothies, you will want to use the large attachment.
The Ninja is powerful enough to easily blend carrots, kale, spinach and many other hard fruits and veggies. I still peel and chop fruits and veggies but it takes care of the rest.
Don't waste your money on a fancy juicer (we've had one of those before and donated it). The Ninja blender is all we need to make nutritious drinks to get our daily intake of fruits and veggies.
7 Smoothie Recipes for Quick Healthy Meals
Sweet Grapefruit Smoothie
The hubby and I drink this sweet grapefruit smoothie (from Incredible Smoothies) on a regular basis. We add 1/2 scoop of vanilla protein powder and kale to ours. Grapefruit is known to promote weight loss because the fruit may keep you feeling full longer.
Vegan Detox Green Monster Smoothie
I love this vegan detox green monster smoothie from Ambitious Kitchen. Ingredients include banana, kale, strawberry and cucumber (I've added kiwi to mine well!)
Super Green Cucumber Apple and Ginger Smoothie
This super green cucumber apple and ginger smoothie from Tales of a Kitchen will have you wanting to drink your veggies more often. I add bananas to ALL of my smoothies so my modified version is to add 1 banana, 1/2 scoop of vanilla protein powder and 1 tsp of flax seed. I occasionally throw in some pineapple too 🙂
Pineapple Peach Mango Green Smoothie
I love this pineapple peach mango green smoothie from Lemon Tree Dwelling because it's filled with yummy goodness! We've substituted the yogurt for 1/2 scoop vanilla protein powder and substituted kale instead of spinach. Also used fresh pineapple chunks in place of juice.
Chocolate Peanut Butter Banana Oatmeal Smoothie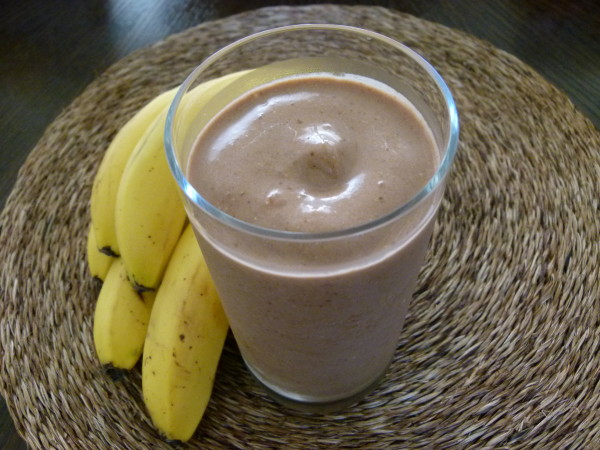 On Friday's I like to treat myself to a chocolate smoothie. But not just any chocolate… this chocolate peanut butter banana oatmeal smoothie from Pamela Salzman. But let me tell you my secret to making this smoothie super chocolatey – use chocolate almond milk and chocolate protein powder. If you don't have chocolate almond milk in your frig, then you are missing out. Our kids love drinking chocolate almond milk and it's my special treat every Friday in this tasty smoothie. I also throw a handful of spinach in this smoothie (so I'm still getting some greens!).
Banana Cinnamon Oat Smoothie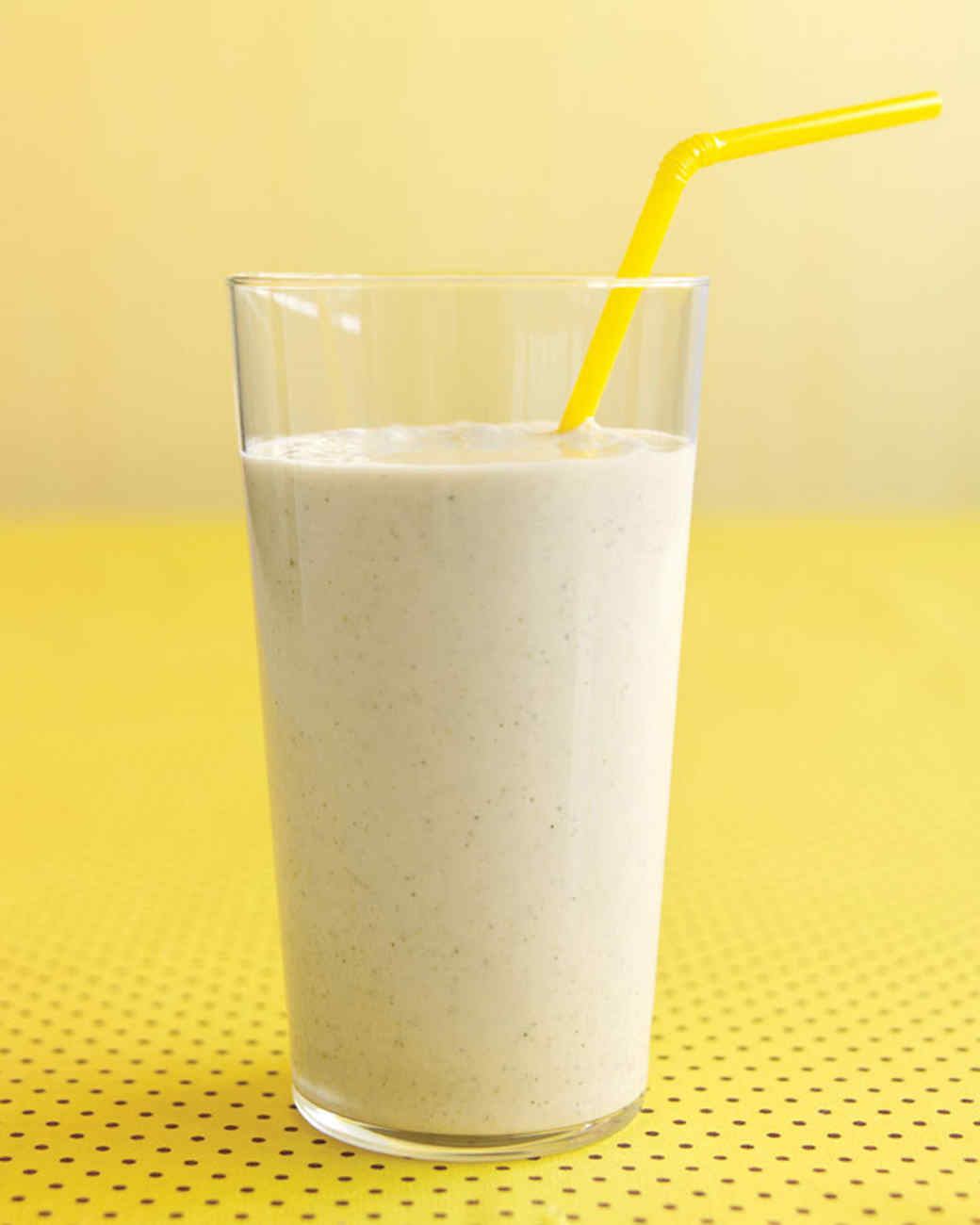 This banana cinnamon oat smoothie from Martha Stewart is super easy to make using basic pantry staples. We skip the yogurt and add 1/2 scoop of vanilla protein powder (unless you want to add greek yogurt for protein) and we also use a milk substitute (almond milk or coconut milk)
Blueberry Pineapple Smoothie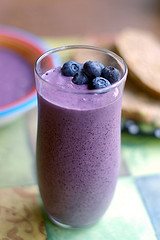 As much as I love green smoothies, berry smoothies are yummy too. This blueberry pineapple smoothie from Healthy Smoothie HQ hits the spot. I add 1/2 scoop of vanilla protein powder, kale, and blackberries if in season.
Want to sit down and eat your breakfast from a bowl? You can always try smoothie bowls 🙂 Just pour your base blended smoothie into a bowl and top with sliced fruit, flax seed, chai seed, etc.
These smoothie recipes are easy to make while offering nutritious value, whether you are watching your weight, want a fast breakfast, or want to make sure you get your daily intake of fruit and veggies. Don't forget to check out the Ninja Blender to make amazing smoothies 🙂
Psssssttt… Want more inspiration delivered directly to your inbox? Subscribe to our FREE weekly newsletter! We provide simple ideas for Organizing, DIY, Crafts, Home Decor and more!  Hurry up and sign up here! 
Disclaimer: This post may contain affiliate links or a sponsored post. All opinions are always 100% mine and I don't partner with any product or company that I don't use and love. Please see our Full Disclosure for more information.